Hi Sobat Balipedia. Kali ini mimin ingin memberikan informasi seputar harga tiket masuk Bali Zoo Park tahun 2018. Yups, tulisan ini kami tunjukkan khusus bagi para wisatawan pencinta kebun binatang di Bali. Berbeda dengan Bali Safari Marine Park, tempat wisata Bali Zoo menyajikan hal yang berbeda walaupun sama-sama 'berisi' aneka satwa. Disini, jika kamu ingin melihat satwa, harus kuat jalan kaki karena masing-masing satwa berada di tempat penangkaran sesuai dengan habitatnya. Walau begitu, capeknya tidak akan terasa karena tempatnya cukup rindang dengan jalur jejak kaki pengunjung yang tertata dengan apik saat menikmati satwa yang berada dalam tempatnya.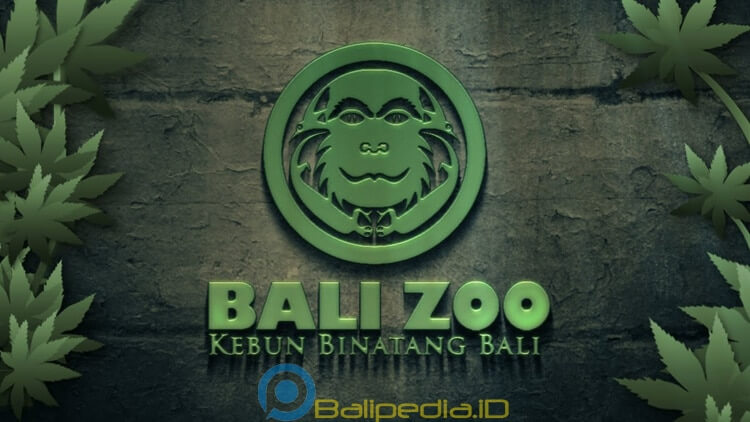 Sekilas Tentang Bali Zoo
Bali Zoo adalah kebun binatang di Bali dan merupakan salah satu terbaik di Asia-Pasifik. Memiliki tujuan untuk melestarikan satwa yang hampir punah serta menjadi tempat rekreasi yang menarik bagi wisatawan. Terletak di Jl. Raya Singapadu Banjar Seseh Sukawati Batuan Sukawati Gianyar Bali, tempat ini memiliki luas sekitar 3,5 ha dan hingga saat ini sudah ada lebih dari 450 jenis satwa langka. Diantaranya ada Jalak Bali, Merak, Kasuari, Elang, harimau Sumatra, singa afrika, singa, rusa , onta, kanguru, dll. Semua satwa berada di dalam kandangnya sesuai dengan habitatnya.
Apa yang menarik dari Bali Zoo?
Bali Zoo menawarkan Miniapolis Jungle waterplay, Animal encounters, animal show, petting zoo, elephant safari, dll. Melihat hal tersebut, tentu saja ini merupakan tempat yang sangat cocok buat wisata keluarga. Apalagi harga tiket masuk Bali Zoo juga tergolong murah. Lihat denahnya disini
Miniapolis Jungle Waterplay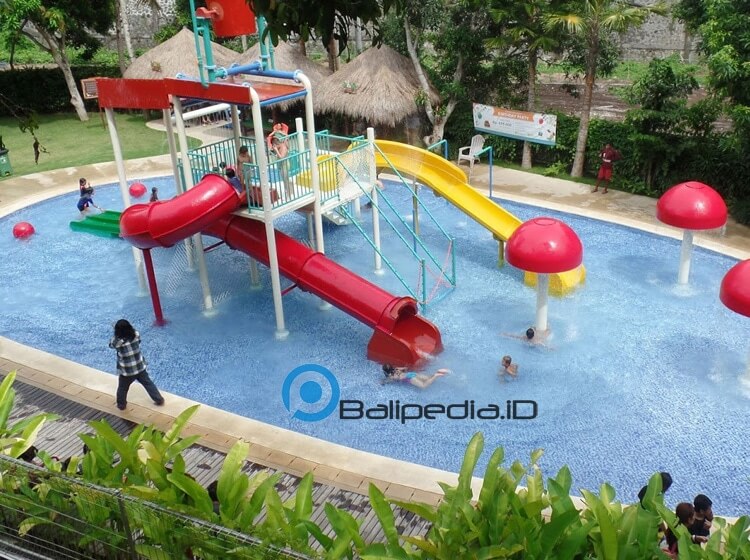 Sebuah tempat untuk bermain air yang didesain khusus buat anak-anak. Anak Anda pastinya sangat senang jika bermain air disini. Khusus untuk Gazebo dan Locker dikenakan biaya sewa jika ingin menggunakannya. Gazebo = 25 ribu/jam, locker = 10 ribu/jam
Animal Encounter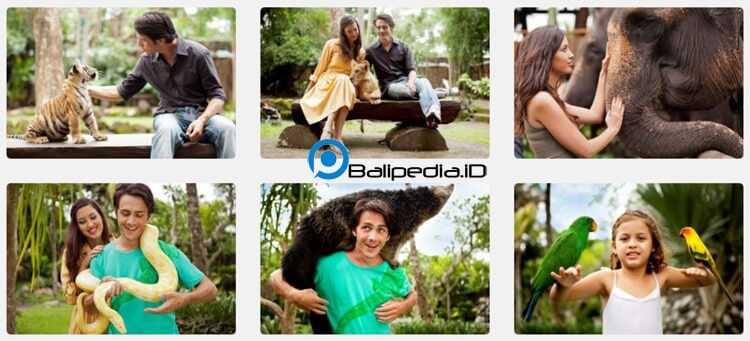 Animal Encounter adalah foto bersama dengan satwa/binatang yang ada di Bali Zoo. Jadi jangan lupa bawa kamera untuk bisa mengabadikan kebersamaan dengan 'penghuni' Bali Zoo 😀
Animal Show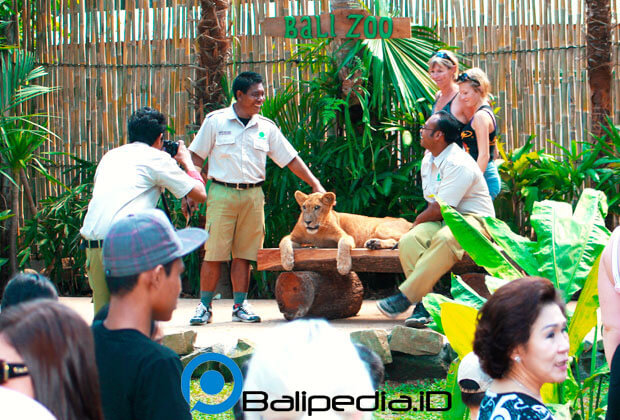 Animal show adalah sebuah atraksi/pertunjukkan binatang di Bali Zoo. Akan ada pemandu dan satwa yang akan saling mempertontonkan kebolehannya 😀
Petting Zoo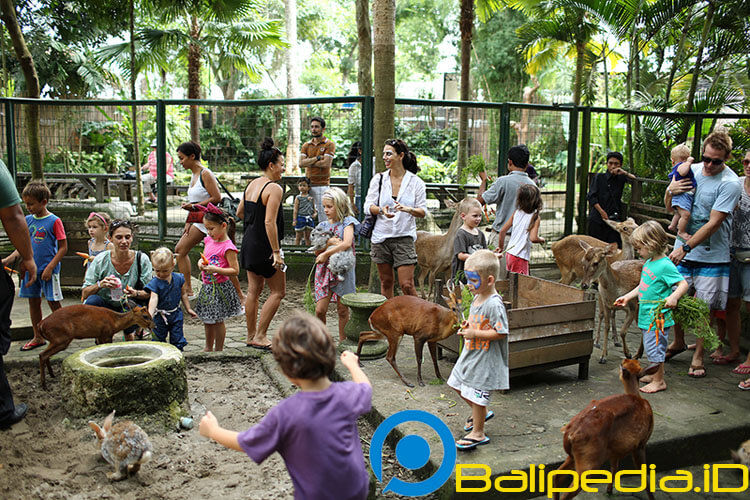 Petting Zoo adalah memberikan makan pada binatang di Bali Zoo. Bagi orang dewasa, adalah hal yang lumrah namun bagaimana dengan anak-anak? tentu saja ada sensasi tersendiri 😀
Harga Tiket Masuk Bali Zoo Park 2018
Htm alias harga tiket masuk Bali Zoo Park tahun 2018 adalah harga terbaru yang dikenakan per-orang untuk bisa menikmati dan melihat binatang yang ada di Bali Zoo. Dibawah ini kami info harga khusus untuk tamu domestik (WNI) & Kitas Holder. Untuk tiket masuk wisatawan asing, silakan hubungi kami 081339633454 – [email protected]

Daftar Harga Tiket Bali Zoo Park 2018
| | | |
| --- | --- | --- |
| Paket | Peserta | Harga Online |
| Zoo Admission | Dewasa | 125.000 |
| | Anak | 95.000 |
| Elephant Expedition+ Zoo Admission | Dewasa | 475.000 |
| | Anak | 325.000 |
| Dinner with the Great Elephant | Dewasa | 550.000 |
| | Anak | 350.000 |
Note:
Harga Online diatas berlaku jika booking melalui Balipedia

Harga Anak berlaku untuk usia 2 – 12 th (Anak dibawah 2 th = gratis)

Harga Khusus WNI dan Kitas Holder
Fasilitas :
Paket Zoo Admission
Harga Zoo Admission sudah termasuk: Miniapolis Jungle waterplay, Animal encounters & Show, Asuransi s/d $200 ribu
Paket Elephant Safari + Zoo admission
Harga Elephant safari + zoo admission sudah termasuk zoo admission, Elephant ride 30 menit, animal encounter, asuransi s/d $200 ribu
Paket Dinner with the great Elephant
Harga Dinner with the great Elephant sudah termasuk: The Dinner With The Great Elephant Admission, Animal Encounters, Buffet Dinner, Saman Dance (The Dance of Thousand Hands), Balinese Contemporer Fire Dance, Insurance Coverage.
Note:
Mohon dibaca dengan baik:
Bali Zoo buka jam 09.00 – 18.00 wita. Bagi yang ambil paket Zoo admission dan Elephant safari, silakan datang pada jam tersebut.
Khusus yang ambil paket Dinner with the great Elephant, disarankan datang sebelum jam 17.00 wita karena aktifitas di mulai jam 17.00 – 21.30 wita
Anak dibawah 2 th = gratis
Harga tiket masuk Bali Zoo berlaku sampai

31 Maret 2019

khusus untuk wisatawan domestik dan Kitas holder
Harga sudah termasuk pajak dan biaya pelayanan tapi belum termasuk transportasi dari hotel ke Bali Zoo dan sebaliknya
Form Pemesanan Bali Zoo Park
Silakan diisi form pemesanan dibawah ini untuk booking Bali Zoo – kebun Binatang Bali
Bagaimana dengan harga tiket masuk Bali Zoo diatas? Jika ada yang kurang dipahami, silakan hubungi kami dibawah ini:
Peta Bali Zoo
Bali Zoo Pada Peta Google berada pada titik koordinat -8.591569, 115.265616 dengan waktu tempuh sekitar 1 jam dari Bandara Internasional Ngurah Rai Bali. Selengkapnya cek dibawah ini