Hai sobat Balipedia. Kali ini mimin mau bahas seputar Bali Safari Park. Yups, Bali Safari Park atau juga dikenal dengan nama Bali Safari & Marine Park (BSMP) / Taman Safari 3 merupakan tempat wisata dengan pesona keindahan yang sangat menarik untuk dikunjungi buat menambah wawasan mengenai satwa.
Bali Safari Park bisa menjadi tempat wisata andalan bagi keluarga yang sedang berlibur ke Pulau Bali. Tempat ini sangat cocok untuk dikunjungi bersama sahabat, keluarga, maupun pasangan.
Tempat wisata yang menyajikan pesona keindahan alam dan konservasi hewan ini dikelola oleh Taman Safari Indonesia, sehingga menjadi salah satu taman safari terbaik yang ada di Indonesia.
Lokasi Wisata Bali Safari dan Marine Park
Alamat Obyek Wisata Bali Safari Park berlokasi di Jalan Bypass Prof. Dr. Ida Bagus Mantra, Ds. Serongga, Kec. Gianyar, Kab. Gianyar, Prov. Bali.
Tidak sulit untuk menemukan lokasi wisata Bali Safari Park, tapi jika Anda masih bingung bisa coba menggunakan aplikasi Google Maps untuk memudahkan Anda menuju ke lokasi. Cek Mapsnya disini
Bali Safari Park merupakan tempat wisata di Bali yang selalu ramai dikunjungi wisatawan baik pada saat akhir pekan, hari libur, maupun hari biasa. Keindahan tempat wisata alam dan konservasi hewan ini dapat memberikan sensasi yang berbeda dengan aktivitas yang kita lakukan sehari-hari.
Daya Tarik Wisata Bali Safari Park
Taman Safari Indonesia merupakan pengelola dari tempat wisata Bali Safari dan Marine Park ini. Di mana memang sudah terkenal dan ahli dalam bidang konservasi hewan, dan menyelenggarakan eksebisi, serta pertunjukan binatang.
Pengalaman selama lebih dari 20 tahun yang dimiliki oleh Taman Safari Indonesia diharapkan mampu menjadikan Bali Safari Park sebagai Taman Safari terbaik di Indonesia.

Di Bali Safari Park sendiri ada beragam jenis satwa langka yang berasal dari 3 negara yaitu Indonesia, India, dan Afrika. Terdapat 60 spesies beserta 400 ekor satwa yang asalnya dari Indonesia, mulai dari Babi Rusa, Tapir, Buaya, Jalak Putih, Burung Hantu, dan Harimau Sumatera.
Sementara beberapa jenis satwa dari India di antaranya Rusa Tutul, Nilgai, Beruang Himalaya, dan Black Buck. Tak ketinggalan pula jenis satwa dari Afrika, seperti Kuda Nil, Singa, Babbon, Zebra, Burung Unta, dan Blue Wildebeest.
Anda dapat berkunjung ke Bali Safari Park bersama keluarga dan menikmati beragam pertunjukkan yang ada. Selain pertunjukkan satwa, pengunjung juga akan diberikan pengetahuan tentang satwa di panggung Hanuman.
Tidak hanya itu saja, wisatawan juga dapat singgah di kampung gajah dan menikmati suguhan atraksi gajah, memasuki museum gajah, wisata naik gajah, dan menikmati aneka kuliner di warung gajah.
Anda juga dapat menyaksikan atraksi mandi gajah di Taman Ganesha. Sebuah taman dengan patung Ganesha setinggi 9 meter dan merupakan gerbang masuk ke Bali Teater.
Tempat pemandian air suci yang disebut Tirta Sulasih juga terdapat di sini. Berbelanja barang kerajinan khas Bali dan souvenir berbentuk binatang-binatang lucu juga bisa Anda lakukan di area pertokoan Peken Bali.
Aktivitas Wisata di Bali Safari Park
Beragam aktivitas wisata seru bisa Anda lakukan di Bali Safari park. Anda bisa mengajak keluarga untuk berkunjung Bali Safari Park dan menikmati aktivitas seru di tempat ini. Cek: jadwal Bali Safari
1. Berkeliling Melihat Satwa Menggunakan Tram
Lain halnya dengan Taman Safari di Bogor atau pun Perigen, Anda dapat melihat-lihat aneka satwa menggunakan Tram di Bali Safari Park. Berkeliling taman safari menggunakan tram memberikan sensasi tersendiri.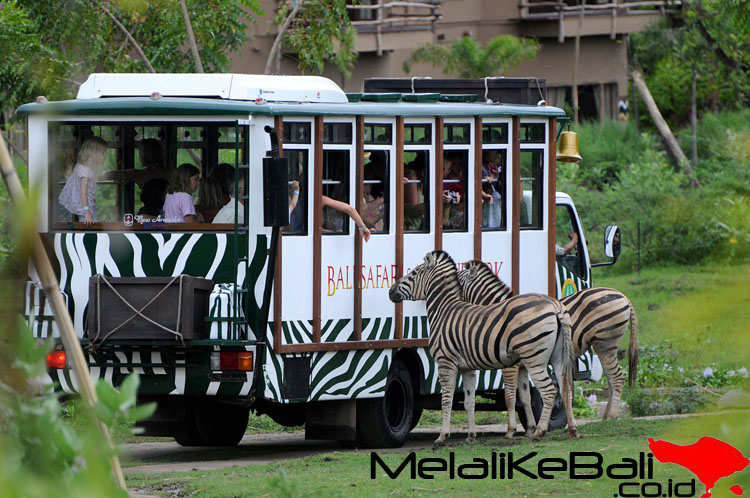 Suasana rimba begitu terasa di Bali Safari Park, terlebih lagi dengan desain tram yang sedemikian rupa. Sepanjang perjalanan, seorang pemandu safari akan menemani dan menjelaskan tentang jenis-jenis satwa yang ditemui.
Bali Safari terbagi menjadi beberapa zona wilayah yang nantinya akan kelilingi menggunakan tram, yaitu zona wilayah Amerika, Asia, dan Afrika.
2. Menyaksikan Pertunjukan Satwa yang Menarik
Pengunjung tidak hanya dapat berkeliling dan melihat satwa, tapi juga akan disuguhkan dengan berbagai atraksi satwa yang menarik dan edukatif, seperti pertunjukan gajah, harimau, serta orang utan yang pintar dan lucu.
Kenyamanan dapat Anda nikmati saat menyaksikan pertunjukan satwa karena tempatnya didesain dan ditata sedemikian rupa untuk menunjang kenyamanan pengunjung.
3. Menyaksikan Pertunjukan Sendratari di Bali Agung Show
Selepas lelah berkeliling Bali Safari & Marine Park, pengunjung juga dapat melakukan aktivitas wisata lainnya, yaitu menyaksikan pertunjukan kesenian di Bali Agung Show.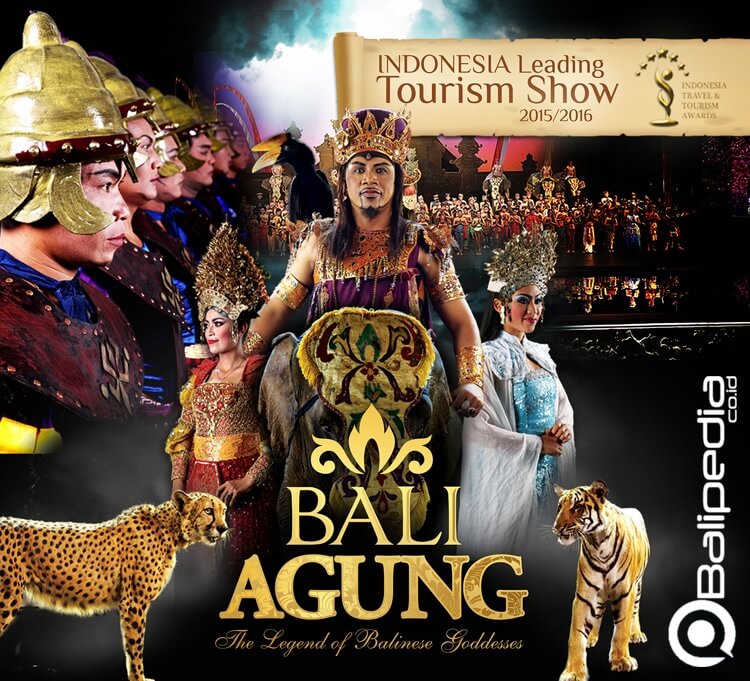 Bali Agung Show merupakan tempat diselenggarakannya pertunjukkan sendratari khas Bali dengan tata panggung megah dan artistik.
Acara di Bali Agung Show biasanya dimulai pukul 14.30 dengan durasi pertunjukkan selama 1 jam. Bila Anda ingin menonton pertunjukkan Bali Agung Show, pastikan untuk membeli tiket Safari Legend yah sob!
4. Menikmati Sajian Kuliner Bersama Singa
Ada satu aktivitas unik yang bisa Anda lakukan di Bali Safari Park, yaitu menikmati sajian kuliner bersama 'si Raja Rimba'. Restoran unik ini bernama Tsavo Lion Restaurant, di mana Anda akan merasakan sensasi tersendiri saat menyantap sajian bersama dengan Singa.
Singa tersebut berada di balik kaca tembus pandang yang dirancang sedemikian rupa sehingga terasa dekat dengan para pengunjung restoran.
Namun Anda memang harus merogoh kocek agak dalam, karena rata-rata harga menu makanan di tempat ini relatif mahal. Tapi sebanding kok dengan fasilitas, sensasi dan rasa yang bisa Anda nikmati.
5. Memberi Makan Satwa (Animal Feeding)
Memberi makan satwa atau animal feeding menjadi aktivitas wisata menarik lainnya yang bisa Anda nikmati di Bali Safari Park. Salah satu hewan favorit di tempat ini yang boleh Anda beri makan adalah gajah.
Namun Anda tidak boleh memberi sembarang makanan, wisatawan harus membeli paket makanan di counter khusus seharga Rp 50.000
6. Bermain Air di Waterpark dan Fun Zone
Waterpark dan Fun Zone merupakan tempat wisata air yang lokasinya berada di dalam Bali Safari Park. Tempat ini menyediakan beragam wahana permainan seru yang bisa Anda nikmati bersama keluarga.
7. Merasakan Sensasi Menegangkan di Bali Night Safari
Di Bali Safari Park juga disediakan aktivitas unik yang tidak terdapat di taman safari lainnya di Indonesia. Yaitu berkeliling menggunakan mobil kerangkeng pada malam hari (Night Safari Bali). Pengunjung juga dapat memberi makan singa atau harimau dengan daging segar dari balik mobil tersebut melalui perantara pemandu yang dampingi.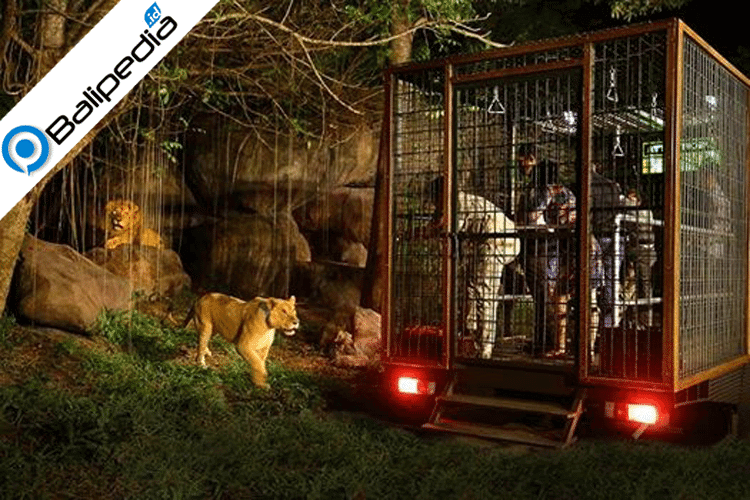 Harga Tiket Masuk Bali Safari Park
Bagi pengunjung yang ingin masuk ke area Bali Safari Park, tentunya harus membayar sejumlah harga tiket masuk. Berikut ini adalah daftar harga tiket masuk Bali Safari untuk domestik sesuai dengan paket yang bisa Anda pilih:
| Paket | Peserta | Harga Online |
| --- | --- | --- |
| Safari Explorer | Dewasa | 135.000 |
| | Anak (3-12 th) | 110.000 |
| Safari Legend | Dewasa | 250.000 |
| | Anak (3-12 th) | 210.000 |
| Night Safari | Dewasa | 400.000 |
| | Anak (3-12 th) | 300.000 |
| Elephant Back Safari | Dewasa | 450.000 |
| | Anak (3-12 th) | 350.000 |
| Breakfast with Lions | Dewasa | 400.000 |
| | Anak (3-12 th) | 300.000 |
| Breakfast with Lions + Naik Gajah | Dewasa | 825.000 |
| | Anak (3-12 th) | 650.000 |
*) Harga di atas merupakan harga khusus WNI dan Kitas Holder, dan berlaku sampai Maret 2019
Mau Pesan Tiketnya? Yuk diisi formnya dibawah ini….
Itulah ulasan dari kami mengenai wisata Bali Safari Park yang berlokasi di Gianyar Bali. Semoga dengan ulasan tadi menambah referensi tempat wisata di Bali yang cocok untuk Anda kunjungi selama melewati masa liburan.
Ada masukkan? Silakan diskusi dibawah ini ya..